Methyl gallate
CAS No. :

99-24-1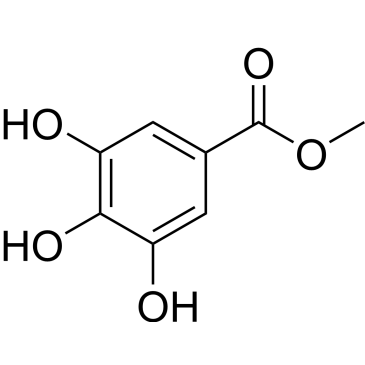 | | |
| --- | --- |
| Cat. No. : | CS-0018330 |
| M. Wt. : | 184.15 |
Size
Stock
Price
Quantity
Add to Cart
Quotation Online

5g

In-stock
USD

50.0

50.0
Products are for research use only. Not for human use. We do not sell to patients.
Your information is safe with us. * Required Fields
Data Sheet

Introduction

SDS

COA & Spectra
| | |
| --- | --- |
| Name: | Methyl gallate; Gallincin; NSC 363001 |
| Cat. No. : | CS-0018330 |
| CAS No. : | 99-24-1 |
| Formula: | C8H8O5 |
| M. Wt. : | 184.15 |
| Solubility: | DMSO: ≥ 160 mg/mL |
Download Data Sheet
Activity:
Methyl gallate is a plant phenolic with antioxidant, anticancer, and anti-inflammatory activities. Methyl gallate also shows bacterial inhibition activity. IC50 & Target: Bacterial[1] In Vitro: The growth of A. viscosus is inhibited completely by a low dose of Methyl gallate (MIC=1 mg/mL). S. mutans and . sobrinus show intermediate sensitivity to Methyl gallate (MIC=2-4 mg/mL), whereas the growth of Lactobacillus spp. is inhibited completely at a relatively high concentration (MIC=8 mg/mL)[1]. Methyl gallate, in a concentration of 100 mM, could alleviate lipid peroxidation of the cells exposed to a short-term H2O2 treatment. In addition, Methyl gallate-treated cells could prevent intracellular glutathione (GSH) from being depleted following an exposure of H2O2 (8.0 mM) for a 3 h period[2]. Methyl gallate inhibits Treg cell-suppressive effects on effector CD4+ T cells and Treg migration toward tumor environment. Furthermore, forkhead box P3 (Foxp3) expression is also significantly decreased by methyl gallate[3].
Protocol:
Cell Assay:
[1]
KB cells
, a human mouth epithelial cell line, are treated with
Methyl gallate (1-8 mg/mL)
for 24 h. Cytotoxicity of Methyl gallate is assessed by a modified MTT assay
[1]
.
References:
Kang MS, et al. Inhibitory effect of methyl gallate and gallic acid on oral bacteria. J Microbiol. 2008 Dec;46(6):744-50.
Lee H, et al. Methyl gallate exhibits potent antitumor activities by inhibiting tumor infiltration of CD4+CD25+ regulatory T cells. J Immunol. 2010 Dec 1;185(11):6698-705.
Hsieh TJ, et al. Protective effect of methyl gallate from Toona sinensis (Meliaceae) against hydrogen peroxide-induced oxidative stress and DNA damage in MDCK cells. Food Chem Toxicol. 2004 May;42(5):843-50.
We apologize for the inconvenience. The Certificate of Analysis you requested is not currently available on-line:
1. The Lot Number you requested may have been entered incorrectly. How to get a Lot Number
2. The COA of the Lot you requested has not been added to our database.
Tags:Methyl gallate supplier,Methyl gallate purchase,Methyl gallate manufacturer,Methyl gallate sigma,Methyl gallate distributor,cost,Methyl gallate buy,Methyl gallate for sale