Pancreatic Polypeptide, rat
CAS No. :

90419-12-8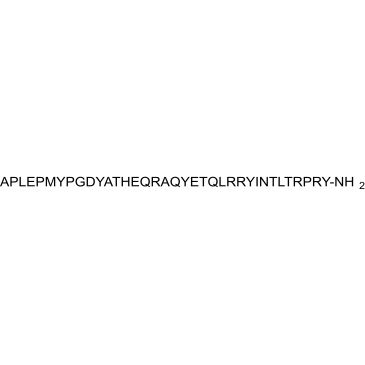 | | |
| --- | --- |
| Cat. No. : | CS-0044796 |
| M. Wt. : | 4398.87 |
Size
Stock
Price
Quantity
Add to Cart
Quotation Online

500ug

Backordered

$

260.0

260.0

Get quote

1mg

Backordered

$

440.0

440.0

Get quote

5mg

Backordered

$

1300.0

1300.0

Get quote
Products are for research use only. Not for human use. We do not sell to patients.
Your information is safe with us. * Required Fields
Data Sheet

Introduction

SDS

COA & Spectra
| | |
| --- | --- |
| Name: | Pancreatic Polypeptide, rat; Rat pancreatic polypeptide |
| Cat. No. : | CS-0044796 |
| CAS No. : | 90419-12-8 |
| Formula: | C195H298N58O57S |
| M. Wt. : | 4398.87 |
| Solubility: | H2O |
Activity:
Pancreatic Polypeptide, rat is an agonist of NPY receptor, with high affinity at NPYR4. IC50 & Target: NPYR4[1] In Vitro: Pancreatic Polypeptide, rat is an agonist of NPY receptor, with high affinity at NPYR4. Pancreatic Polypeptide (1 μM) does not alter proliferation in BRIN BD11 or 1.1B4 beta-cells, but reverses the decreased cell viability in BRIN BD11 cells induced by streptozotocin. Pancreatic Polypeptide (0.1 nM-1 μM) shows no effect on insulin secretion from isolated mouse islets, and does not affect the membrane potential and (Ca2+)i levels in BRIN BD11 cells at 1 μM[1]. In Vivo: Pancreatic Polypeptide (25 nmol/kg bw, i.p.) reduces glucose-stimulated insulin concentrations but shows no effect on acute feeding behaviour in overnight fasted mice[1].
Protocol:
Cell Assay:
[1]
To assess the effects of NPY and Pancreatic Polypeptide on rodent
BRIN-BD11
and human
1.1B4 beta-cell
proliferation, cells are seeded at a density of
150,000 cells per well
and cultured overnight in the presence of NPY or
Pancreatic Polypeptide (1 μM)
, and compared to positive control GLP-1 (1 μM). Cells are washed with PBS and fixed using 4% paraformaldehyde. After antigen retrieval with citrate buffer at 95°C for 20 min, tissue is blocked using 2% BSA for 45 min. The slides are then incubated with rabbit anti-Ki-67 primary antibody, and subsequently with Alexa Fluor
®
594 secondary antibody. Slides are viewed using fluorescent microscope and photographed by DP70 camera adapter system. Proliferation frequency is determined in a blinded fashion and expressed as % of total cells analysed. Approximately 150 cells per replicate are analysed. For analysis of ability of NPY and Pancreatic Polypeptide to protect against streptozotocin-induced DNA damage, BRIN-BD11 and 1.1B4 cells are seeded. Cells are then exposed to streptozotocin (5 mM) in the presence or absence of NPY or Pancreatic Polypeptide (1 μM) for 2 h, with GLP-1 (1 μM) as positive control. Cells are then harvested and a comet assay is performed. Resulting gels are stained using DAPI (4′,6-diamidino-2-phenylindole) (100 μg/mL) and slides are viewed under appropriate filter. Comet score software is used for the analysis of % tail DNA (100 cells per gel) and olive tail moment
[1]
.
Animal Administration:
Pancreatic Polypeptide is formulated in 0.9% (w/v) NaCl
[1]
.
[1]
Mice
[1]
Plasma glucose and insulin responses are evaluated after intraperitoneal (
i.p.
) injection of glucose alone (18 mmol/kg body weight) or in combination with test peptides (
Pancreatic Polypeptide
, etc.;
25 nmol/kg body weight
) in overnight (18 h) fasted
C57BL/6 mice
. In a second series of experiments, 18 h fasted mice are used to assess the effects of respective test peptides on food intake. Mice receive an i.p. injection of saline alone (
0.9% (w/v) NaCl
) or in combination with test peptides (25 nmol/kg body weight) and food intake measured at 30 min intervals for 180 min. A dose of 25 nmol/kg is chosen with other NPYR modulators on glucose homeostasis, insulin secretion and feeding at this dose
[1]
.
References:
Khan D, et al. Influence of neuropeptide Y and pancreatic polypeptide on islet function and beta-cell survival. Biochim Biophys Acta. 2017 Apr;1861(4):749-758.
We apologize for the inconvenience. The Certificate of Analysis you requested is not currently available on-line:
1. The Lot Number you requested may have been entered incorrectly. How to get a Lot Number
2. The COA of the Lot you requested has not been added to our database.
Tags:Pancreatic Polypeptide, rat supplier,Pancreatic Polypeptide, rat purchase,Pancreatic Polypeptide, rat manufacturer,Pancreatic Polypeptide, rat sigma,Pancreatic Polypeptide, rat distributor,cost,Pancreatic Polypeptide, rat buy,Pancreatic Polypeptide, rat for sale