Luciferase
CAS No. :

9014-00-0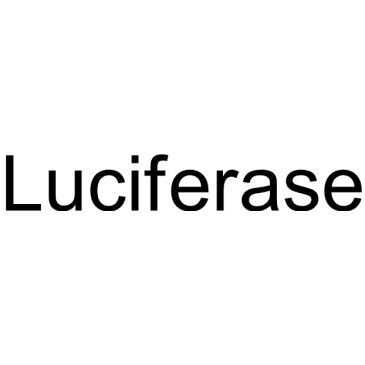 | | |
| --- | --- |
| Cat. No. : | CS-7681 |
| M. Wt. : | |
Size
Stock
Price
Quantity
Add to Cart
Quotation Online

1mg

In-stock

$

90.0

90.0

5mg

In-stock

$

360.0

360.0

10mg

In-stock

$

610.0

610.0
Products are for research use only. Not for human use. We do not sell to patients.
Your information is safe with us. * Required Fields
Data Sheet

Introduction

SDS

COA & Spectra
| | |
| --- | --- |
| Name: | Luciferase; |
| Cat. No. : | CS-7681 |
| CAS No. : | 9014-00-0 |
| Formula: | |
| M. Wt. : | |
| Solubility: | DMSO |
Download Data Sheet
Activity:
Luciferase is a class of enzyme which could oxidize D-luciferin to chemically generate visible light, and is widely used for biological assays and imaging. In Vitro: The increase in IFNγ, TNFα, and IL-2 expression observed by intracellular staining of splenocytes after exposure to Luciferase peptide plus the specific binding of MHC I-luciferase peptide tetramer to activated liver lymphocytes provides definitive evidence for a cytotoxic T cell response against Luciferase in animals infused with pT2/CaL plus SB100X, resulting in the rapid loss of Luciferase expression from around 1010 p/sec/cm2 to less than 107 p/sec/cm2[2]. In Vivo: SCID mice are subsequently used to evaluate the Luciferase expression by in vivo bioluminescence imaging. All mice exhibite high levels of Luciferase expression (>1.5×108 and up to 3.8×1010 p/sec/cm2) 1 day postinfusion, and as previously observed there is a rapid loss of Luciferase expression in animals. All animals co-infused with pCMV-SB100X maintain high levels of Luciferase expression (>109 p/sec/cm2), without diminution from day 1 levels, which lasts for at least 4 weeks[2].
Protocol:
Cell Assay:
[2]
Following CO
2
asphyxiation, animals are perfused with 0.9% sodium chloride and then the liver and spleen are harvested and disrupted into single-cell suspensions. Liver lymphocytes are isolated on a 44% to 67% percoll gradient. Red blood cells in splenocyte suspensions are lysed using ACK lysis buffer. Cell suspensions are stimulated with 1 μg/mL Luciferase peptide plus 1 μg/mL GolgiPlug for 4 hr at 37°C
[2]
.
Animal Administration:
[2]
Mice are anesthetized with 0.2 mL of ketamine cocktail i.p., and then given 0.1 mL of 28.5 mg/mL D-luciferin i.p. Animals are then imaged for a duration of 0.5 sec to 5 min using the imaging system. Luciferase activity levels are expressed in photons emitted per second per square centimeter, denoted as p/sec/cm
2
[2]
.
References:
David M. Mofford, et al. Aminoluciferins Extend Firefly Luciferase Bioluminescence into the Near-Infrared and Can Be Preferred Substrates over d-Luciferin. J Am Chem Soc. 2014 Sep 24; 136(38): 13277-13282.
Kelly M, et al. Cellular Immune Response Against Firefly Luciferase After Sleeping Beauty–Mediated Gene Transfer In Vivo. Hum Gene Ther. 2014 Nov 1; 25(11): 955-965.
Your search returns no results.
Tags:Luciferase supplier,Luciferase purchase,Luciferase manufacturer,Luciferase sigma,Luciferase distributor,cost,Luciferase buy,Luciferase for sale