Ac-Gly-BoroPro
CAS No. :

886992-99-0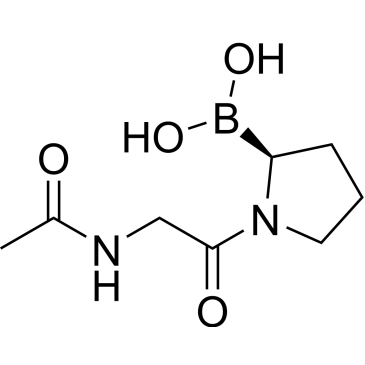 | | |
| --- | --- |
| Cat. No. : | CS-6995 |
| M. Wt. : | 214.03 |
Size
Stock
Price
Quantity
Add to Cart
Quotation Online

1mg

In-stock
USD

132.0

132.0

5mg

In-stock
USD

528.0

528.0
Products are for research use only. Not for human use. We do not sell to patients.
Your information is safe with us. * Required Fields
Data Sheet

Introduction

SDS

COA & Spectra
| | |
| --- | --- |
| Name: | Ac-Gly-BoroPro; |
| Cat. No. : | CS-6995 |
| CAS No. : | 886992-99-0 |
| Formula: | C8H15BN2O4 |
| M. Wt. : | 214.03 |
| Solubility: | DMSO |
Download Data Sheet
Activity:
Ac-Gly-BoroPro is a selective FAP inhibitor with a Ki of 23 nM. IC50 & Target: Ki: 23 nM (FAP)[1] In Vitro: FAP has been implicated in cancer; however, its specific role remains elusive because inhibitors that distinguish FAP from other prolyl peptidases like dipeptidyl peptidase-4 (DPP-4) have not been developed. Ac-Gly-BoroPro selectively inhibits FAP relative to other prolyl peptidases. FAP reacts readily with submicromolar concentrations of Ac-Gly-BoroPro, reaching steady state inhibition levels rapidly (Ki=23±3 nM). In contrast, DPP-4 requires higher Ac-Gly-BoroPro concentrations for inhibition and a longer time to reach steady state inhibition levels (Ki=377±18 nM). Ac-Gly-BoroPro inhibits other prolyl peptidases (DPP-7, DPP-8, DPP-9, prolyl oligopeptidase, and acylpeptide hydrolase) with Ki values ranging from 9- to 5400-fold higher than that for FAP inhibition. The N-acyl-linkage in Ac-Gly-BoroPro blocks the N terminus of the inhibitor, making it less nucleophilic and therefore unlikely to cyclize[1].
Protocol:
Kinase Assay:
[1]
K
i
values for inhibition of proteases by Ac-Gly-BoroPro are determined using the method of progress curves for analysis of tight binding competitive inhibitors. Various concentrations of Ac-Gly-BoroPro are reacted with FAP (1.0 nM) and DPP-4 (0.1 nM) in the presence of Ala-Pro-AFC (500 μM for FAP; 100 μM for DPP-4), and time-dependent inhibition of each protease is monitored. Reactions contained inhibitor concentrations at least 20-fold greater than protease concentrations, such that the protease-inhibitor complex does not significantly deplete the free inhibitor
[1]
.
References:
Edosada CY, et al. Selective inhibition of fibroblast activation protein protease based on dipeptide substrate specificity. J Biol Chem. 2006 Mar 17;281(11):7437-44.
We apologize for the inconvenience. The Certificate of Analysis you requested is not currently available on-line:
1. The Lot Number you requested may have been entered incorrectly. How to get a Lot Number
2. The COA of the Lot you requested has not been added to our database.
Tags:Ac-Gly-BoroPro supplier,Ac-Gly-BoroPro purchase,Ac-Gly-BoroPro manufacturer,Ac-Gly-BoroPro sigma,Ac-Gly-BoroPro distributor,cost,Ac-Gly-BoroPro buy,Ac-Gly-BoroPro for sale