Benzalkonium chloride
CAS No. :

8001-54-5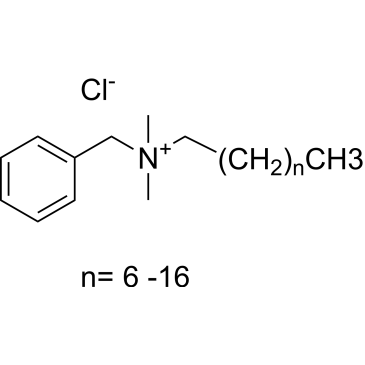 | | |
| --- | --- |
| Cat. No. : | CS-7764 |
| M. Wt. : | |
Size
Stock
Price
Quantity
Add to Cart
Quotation Online

1g

In-stock

$

60.0

60.0
Products are for research use only. Not for human use. We do not sell to patients.
Your information is safe with us. * Required Fields
Data Sheet

Introduction

SDS

COA & Spectra
| | |
| --- | --- |
| Name: | Benzalkonium chloride; Alkyldimethylbenzylammonium chloride |
| Cat. No. : | CS-7764 |
| CAS No. : | 8001-54-5 |
| Formula: | C6H5CH2N(CH3)2RCl (R=C8H17 to C18H37) |
| M. Wt. : | |
| Solubility: | DMSO |
Download Data Sheet
Activity:
Benzalkonium chloride is a potent anti-microbial agent, used as a preservative in eye drops. In Vitro: Benzalkonium chloride (0.0001%-0.5%) results in a dose-dependent cytotoxicity in cells. Benzalkonium chloride also shows cytotoxicity against human keratinocytes, with 50% loss of viability of 4 μM. Benzalkonium chloride shows different results in NHEK and NB1RGB cell cultures, and the ED50 of 3.9 and 62 μM, respectively. The clinically used concentration (0.01% Benzalkonium chloride) significantly reduces cell viability, with only 14%-19% of nasal epithelial cells surviving the treatment[1]. In Vivo: Benzalkonium chloride (0.02%) causes no abnormalities in the nasal epithelium of the monkeys after light and electron microscopical examination. In 4-5 week-old SD rats, 0.01% and 0.1% Benzalkonium chloride induce a time-dependent increase in the thickness of the nasal respiratory epithelium[1].
Protocol:
References:
Johnson NF. Pulmonary Toxicity of Benzalkonium Chloride. J Aerosol Med Pulm Drug Deliv. 2017 Jul 6.
Your search returns no results.
Tags:Benzalkonium chloride supplier,Benzalkonium chloride purchase,Benzalkonium chloride manufacturer,Benzalkonium chloride sigma,Benzalkonium chloride distributor,cost,Benzalkonium chloride buy,Benzalkonium chloride for sale