Solutol HS-15
CAS No. :

61909-81-7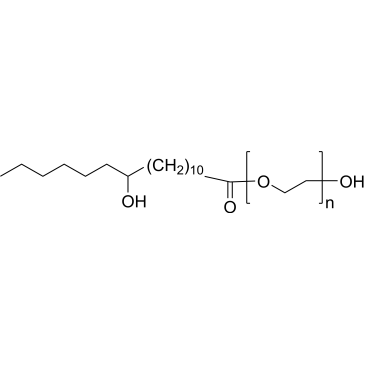 | | |
| --- | --- |
| Cat. No. : | CS-0040442 |
| M. Wt. : | 374.60 |
Size
Stock
Price
Quantity
Add to Cart
Quotation Online

50g

In-stock
USD

70.0

70.0
Products are for research use only. Not for human use. We do not sell to patients.
Your information is safe with us. * Required Fields
Data Sheet

Introduction

SDS

COA & Spectra
| | |
| --- | --- |
| Name: | Solutol HS-15; |
| Cat. No. : | CS-0040442 |
| CAS No. : | 61909-81-7 |
| Formula: | (C2H4O)nC18H36O3 |
| M. Wt. : | 374.60 |
| Solubility: | DMSO |
Download Data Sheet
Activity:
Solutol HS-15 is a permeability enhancer. In Vitro: Solutol HS-15 is a permeability enhancer. A general decline in cell metabolic activity is seen for all three tested cell lines as the concentration of Solutol HS-15 solution is increased. Results demonstrate that Solutol HS-15 promotes the apical-to-basolateral translocation of a model protein (insulin) across Calu-3 monolayers when applied at 37°C. Furthermore there is no statistically significant increase in insulin permeability in the presence of Solutol HS-15, relative to the respective control, at 4°C. Solutol HS-15 treated cells show a statistically significant increase in permeability towards lower molecular weight permeants (5 to 22 kDa) and an absence of a statistically significant increase in permeability of proteins with larger molecular weight, namely albumin and IgG (P>0.05 relative to control)[1].
Protocol:
Cell Assay:
[1]
For both
MTS
and
LDH cell
viability assays, cells are seeded at a density of 1×10
4
cells on 96-well plates and cultured for a minimum of 24 h.
Solutol HS-15
(in 25 mM HBSS:HEPES, pH 7.4) solutions are applied at concentrations above and below the critical micelle concentration (CMC) (
0.01 mM
to
20 mM
) and cytotoxicity is determined using the MTS and LDH assays. 25 mM HBSS:HEPES is used as a negative control and Triton-X 100 (3 mM) as a positive control. Following 3 h incubation, the MTS reagent in media and LDH working solution are added to the cells and the cells are incubated for a further 3 h at 37°C
[1]
.
References:
Shubber S, et al. Mechanism of mucosal permeability enhancement of CriticalSorb? (Solutol? HS15) investigated in vitro in cell cultures. Pharm Res. 2015 Feb;32(2):516-27.
We apologize for the inconvenience. The Certificate of Analysis you requested is not currently available on-line:
1. The Lot Number you requested may have been entered incorrectly. How to get a Lot Number
2. The COA of the Lot you requested has not been added to our database.
Tags:Solutol HS-15 supplier,Solutol HS-15 purchase,Solutol HS-15 manufacturer,Solutol HS-15 sigma,Solutol HS-15 distributor,cost,Solutol HS-15 buy,Solutol HS-15 for sale