Desaminotyrosine
CAS No. :

501-97-3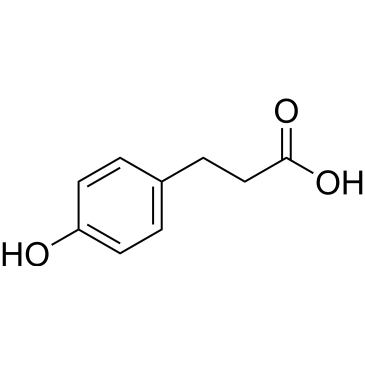 | | |
| --- | --- |
| Cat. No. : | CS-W016062 |
| M. Wt. : | 166.18 |
Size
Stock
Price
Quantity
Add to Cart
Quotation Online

100g

In-stock
USD

50.0

50.0

500g

In-stock
USD

140.0

140.0

1000g

In-stock
USD

210.0

210.0
Products are for research use only. Not for human use. We do not sell to patients.
Your information is safe with us. * Required Fields
Data Sheet

Introduction

SDS

COA & Spectra
| | |
| --- | --- |
| Name: | Desaminotyrosine; 3-(4-Hydroxyphenyl)propionic acid |
| Cat. No. : | CS-W016062 |
| CAS No. : | 501-97-3 |
| Formula: | C9H10O3 |
| M. Wt. : | 166.18 |
| Solubility: | DMSO: ≥300 mg/mL |
Download Data Sheet
Activity:
Desaminotyrosine is a microbially associated metabolite protecting from influenza through augmentation of type I interferon signaling. IC50 & Target: Type I interferon, Influenza virus[1] In Vivo: Wild-type mice produce nanomoles of Desaminotyrosine per gram of feces and have picomolar quantities of Desaminotyrosine in the serum. Desaminotyrosine (200 mM) treatment before influenza infection, protects from influenza by type I interferon (IFN) signaling, with no effect on weight loss or survival in mice with or without vancomycin, neomycin, ampicillin, and metronidazole (VNAM). Desaminotyrosine enhances type I IFN in macrophages via type I IFN amplification in mice[1].
Protocol:
Animal Administration:
Desaminotyrosine is dissolved in Kool-Aid in the drinking water
[1]
.
[1]
Mice
[1]
Indicated mice receive
200 mM Desaminotyrosine
dissolved in
Kool-Aid in the drinking water
(control animals receive Kool-Aid alone). Indicated mice receive poly(IC) injections of 1 mg/kg for vancomycin, neomycin, ampicillin, and metronidazole (
VNAM
) treated mice or 5 mg/kg for all other mice intraperitoneally daily for 4 days, and then mice are scarified on day five at which time serum is collected
[1]
.
References:
Steed AL, et al. The microbial metabolite desaminotyrosine protects from influenza through type I interferon. Science. 2017 Aug 4;357(6350):498-502.
We apologize for the inconvenience. The Certificate of Analysis you requested is not currently available on-line:
1. The Lot Number you requested may have been entered incorrectly. How to get a Lot Number
2. The COA of the Lot you requested has not been added to our database.
Tags:Desaminotyrosine supplier,Desaminotyrosine purchase,Desaminotyrosine manufacturer,Desaminotyrosine sigma,Desaminotyrosine distributor,cost,Desaminotyrosine buy,Desaminotyrosine for sale