Pressinoic Acid
CAS No. :

35748-51-7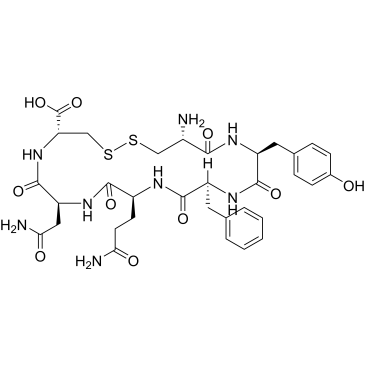 | | |
| --- | --- |
| Cat. No. : | CS-0044426 |
| M. Wt. : | 774.86 |
Size
Stock
Price
Quantity
Add to Cart
Quotation Online

1mg

Backordered

USD

80.0

80.0

Get quote

5mg

Backordered

USD

280.0

280.0

Get quote

10mg

Backordered

USD

480.0

480.0

Get quote
Products are for research use only. Not for human use. We do not sell to patients.
Your information is safe with us. * Required Fields
Data Sheet

Introduction

SDS

COA & Spectra
| | |
| --- | --- |
| Name: | Pressinoic Acid; |
| Cat. No. : | CS-0044426 |
| CAS No. : | 35748-51-7 |
| Formula: | C33H42N8O10S2 |
| M. Wt. : | 774.86 |
| Solubility: | H2O |
Activity:
Pressinoic Acid is a synthetic hexapeptide with potent corticotrophin-releasing activity. Pressinoic Acid is also an oxytocin inhibitor; it induces maternal behavior. IC50 & Target: Oxytocin[1] In Vitro: Pressinoic acid, a synthetic hexapeptide that corresponds to the ring of vasopressin, exhibits corticotrophin-releasing activity in vitro in doses of 3 and 30 ng/mL[1].
Protocol:
Cell Assay:
[1]
Single halved
pituitary glands of female CFE rats
weighing 100 to 150 g are preincubated for two hours in Krebs-Ringer-bicarbonate-glucose (2%) medium under 5% CO
2
in O
2
, and then for one hour periods each with 300 ng. lysine vasopressin and the sample of vasopressin ring peptide
Pressinoic Acid
. The incubations are separated by a one hour ish period. The media from the pituitary incubations are added to rat adrenal quarters superfused for estimation of the steroidogenic response to the corticotrophin released. The steroidogenie effect of the unstimulated release of corticotrophin by the pituitary tissue and the possible steroidogenic effect of the peptide directly on the adrenal tissue are measured together by adding the peptide to the media from pituitary tissue incubated without peptide for one hour
[1]
.
References:
Langs DA, et al. Structure of pressinoic acid: the cyclic moiety of vasopressin. Science. 1986 Jun 6;232(4755):1240-2.
Saffran M, et al. Pressinoic acid: a peptide with potent corticotrophin-releasing activity. Biochem Biophys Res Commun. 1972 Nov 1;49(3):748-51.
We apologize for the inconvenience. The Certificate of Analysis you requested is not currently available on-line:
1. The Lot Number you requested may have been entered incorrectly. How to get a Lot Number
2. The COA of the Lot you requested has not been added to our database.
Tags:Pressinoic Acid supplier,Pressinoic Acid purchase,Pressinoic Acid manufacturer,Pressinoic Acid sigma,Pressinoic Acid distributor,cost,Pressinoic Acid buy,Pressinoic Acid for sale