Paquinimod
CAS No. :

248282-01-1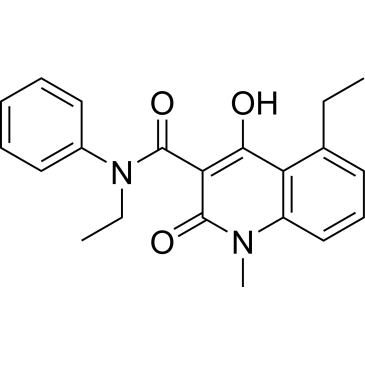 | | |
| --- | --- |
| Cat. No. : | CS-0019027 |
| M. Wt. : | 350.41 |
Size
Stock
Price
Quantity
Add to Cart
Quotation Online

5mg

In-stock
USD

350.0

350.0

10mg

In-stock
USD

500.0

500.0

50mg

In-stock
USD

1500.0

1500.0

100mg

In-stock
USD

2100.0

2100.0
Products are for research use only. Not for human use. We do not sell to patients.
Your information is safe with us. * Required Fields
Data Sheet

Introduction

SDS

COA & Spectra
| | |
| --- | --- |
| Name: | Paquinimod; ABR 25757 |
| Cat. No. : | CS-0019027 |
| CAS No. : | 248282-01-1 |
| Formula: | C21H22N2O3 |
| M. Wt. : | 350.41 |
| Solubility: | DMSO |
Download Data Sheet
Activity:
Paquinimod is a S100A9 inhibitor, which prevents S100A9 binding to TLR-4. IC50 & Target: S100A9[1] In Vivo: S100A9 is a calcium-binding protein of the S100 family. Paquinimod is an immunomodulatory compound preventing S100A9 binding to TLR-4. Prophylactic treatment with S100A9 inhibitor Paquinimod reduces pathology in experimental collagenase-induced osteoarthritis[1]. Paquinimod is a potent inhibitor of insulitis and diabetes development in the NOD mouse. To assess the preventive efficacy of Paquinimod on diabetes development in female NOD mice, groups of mice are treated with daily doses of 0.04, 0.2, 1, and 5 mg/kg/day of Paquinimod from week 10 of age until week 20 of age. Glycosuria is analyzed on a weekly basis from 10 weeks of age until the endpoint of the experiment at 40 weeks of age. There is a clear dose-dependent reduction in diabetes development in the Paquinimod-treated mice[2].
Protocol:
Animal Administration:
Paquinimod is dissolved in drinking water
[2]
.
[2]
Mice
[2]
Female NOD/MrkTac mice
are exposed to increasing concentration of CO
2
and upon loss of consciousness euthanized by cervical dislocation. To investigate the effect of the Q-compound Paquinimod on development of glycosuria and insulitis, mice are treated with
Paquinimod
dissolved in drinking water at different concentrations corresponding to
daily doses of about 0.04, 0.2, 1, and 5 mg/kg body weight/day
). The mice are treated with Paquinimod starting from either 10 or 15 weeks of age. The duration of treatment varies from 5 to 23 weeks in the different experiments performed
[2]
.
References:
Schelbergen RF, et al. Prophylactic treatment with S100A9 inhibitor paquinimod reduces pathology in experimental collagenase-induced osteoarthritis. Ann Rheum Dis. 2015 Dec;74(12):2254-8.
Tahvili S, et al. Paquinimod prevents development of diabetes in the non-obese diabetic (NOD) mouse. PLoS One. 2018 May 9;13(5):e0196598.
We apologize for the inconvenience. The Certificate of Analysis you requested is not currently available on-line:
1. The Lot Number you requested may have been entered incorrectly. How to get a Lot Number
2. The COA of the Lot you requested has not been added to our database.
Tags:Paquinimod supplier,Paquinimod purchase,Paquinimod manufacturer,Paquinimod sigma,Paquinimod distributor,cost,Paquinimod buy,Paquinimod for sale