GSK 4027
CAS No. :

2079896-25-4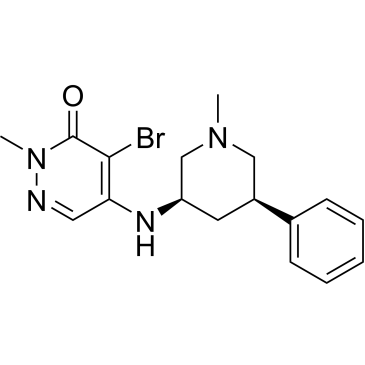 | | |
| --- | --- |
| Cat. No. : | CS-0020734 |
| M. Wt. : | 377.28 |
Size
Stock
Price
Quantity
Add to Cart
Quotation Online

5mg

In-stock

$

550.0

550.0

10mg

In-stock

$

850.0

850.0

25mg

In-stock

$

1750.0

1750.0

50mg

In-stock

$

2750.0

2750.0

100mg

In-stock

$

3950.0

3950.0
Products are for research use only. Not for human use. We do not sell to patients.
Your information is safe with us. * Required Fields
Data Sheet

Introduction

SDS

COA & Spectra
| | |
| --- | --- |
| Name: | GSK 4027; |
| Cat. No. : | CS-0020734 |
| CAS No. : | 2079896-25-4 |
| Formula: | C17H21BrN4O |
| M. Wt. : | 377.28 |
| Solubility: | DMSO |
Download Data Sheet
Activity:
GSK 4027 is a chemical probe for the PCAF/GCN5 bromodomain with an pIC50 of 7.4±0.11 for PCAF in a time-resolved fluorescence resonance energy transfer (TR-FRET) assay. IC50 & Target: pIC50: 7.4±0.11 (PCAF)[1] In Vitro: GSK 4027 is a PCAF/GCN5 bromodomain chemical probe. p300/CREB binding protein associated factor (PCAF/KAT2B) and general control nonderepressible 5 (GCN5/KAT2A) are multidomain proteins that have been implicated in retroviral infection, inflammation pathways, and cancer development. GSK 4027 also demonstrates potency toward BRD4 BD1 and BRD9 inTR-FRET assay with pIC50s of <4.3 and 5.1±0.08, respectively. The selectivity of GSK 4027 against the wider bromodomain family is assessed in the BROMOscan panel with pKi of 8.9 and 8.9 for PCAF and GCN5, respectively. GSK 4027 shows equipotent activity against PCAF and GCN5 with Ki of 1.4 nM for both bromodomains. As expected due to the encouraging measured artificial membrane permeability (500 nm/s), treatment of HEK293 cells with GSK 4027 displace full length PCAF from histone H3.3 with little drop-off from the biochemical assay and a pIC50 7.2 (IC50 60 nM)[1].
Protocol:
References:
Humphreys PG, et al. Discovery of a Potent, Cell Penetrant, and Selective p300/CBP-Associated Factor (PCAF)/General Control Nonderepressible 5 (GCN5) Bromodomain Chemical Probe. J Med Chem. 2017 Jan 26;60(2):695-709.
Your search returns no results.
Tags:GSK 4027 supplier,GSK 4027 purchase,GSK 4027 manufacturer,GSK 4027 sigma,GSK 4027 distributor,cost,GSK 4027 buy,GSK 4027 for sale