FT827
CAS No. :

1959537-86-0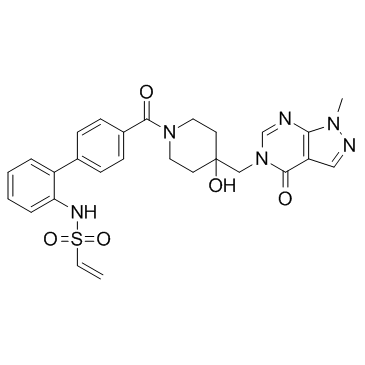 | | |
| --- | --- |
| Cat. No. : | CS-0039475 |
| M. Wt. : | 548.61 |
Size
Stock
Price
Quantity
Add to Cart
Quotation Online

5mg

In-stock
USD

650.0

650.0

10mg

In-stock
USD

1100.0

1100.0

25mg

In-stock
USD

2200.0

2200.0

50mg

In-stock
USD

3500.0

3500.0

100mg

In-stock
USD

4900.0

4900.0
Products are for research use only. Not for human use. We do not sell to patients.
Your information is safe with us. * Required Fields
Data Sheet

Introduction

SDS

COA & Spectra
| | |
| --- | --- |
| Name: | FT827; |
| Cat. No. : | CS-0039475 |
| CAS No. : | 1959537-86-0 |
| Formula: | C27H28N6O5S |
| M. Wt. : | 548.61 |
| Solubility: | DMSO |
Download Data Sheet
Activity:
FT827 is a selective and covalent ubiquitin-specific protease 7 (USP7) inhibitor with an IC50 of 52 nM. IC50 & Target: IC50: 52 nM (USP7)[1] In Vitro: FT827 features a vinylsulfonamide moiety that covalently modifies the catalytic Cys223 of USP7 and inhibits the enzyme with Ki and Kd of 7.8 and 4.2 μM, respectively. FT827 exclusively inhibit USP7 in a panel of 38 deubiquitinases (DUBs) from diverse families. FT827 inhibits USP7 probe reactivity with IC50s of 0.1-2 µM, confirming 10 to 100-fold higher potency as compared to P22077 in crude cell extracts or with intact MCF7 breast cancer cells, followed by incubation with the ubiquitin active site suicide probe haemagglutinin (HA)-tagged ubiquitin bromoethyl (HA-UbC2Br)[1].
Protocol:
Kinase Assay:
[1]
To determine compound IC
50
s,
FT827
is diluted in 100% DMSO in three-fold 12- point dilution series from 100 µM. 100 nL of 100-fold concentrated solutions are dispensed into black 384-well plate. 25 nM ubiquitin-rhodamine 110, along with recombinant USP7CD (3 nM), or USP7C-term (30-125 pM, depending on batch activity) are added and the plates incubated at room temperature for 1 h. The reaction is terminated by adding 2.5 µL citric acid to a final concentration of 10 mM prior to measuring fluorescence intensity on a Pherastar with a 485 nm excitation/520 nm emission optic module
[1]
.
References:
Turnbull AP, et al. Molecular basis of USP7 inhibition by selective small-molecule inhibitors. Nature. 2017 Oct 26;550(7677):481-486.
We apologize for the inconvenience. The Certificate of Analysis you requested is not currently available on-line:
1. The Lot Number you requested may have been entered incorrectly. How to get a Lot Number
2. The COA of the Lot you requested has not been added to our database.
Tags:FT827 supplier,FT827 purchase,FT827 manufacturer,FT827 sigma,FT827 distributor,cost,FT827 buy,FT827 for sale