VX-984
CAS No. :

1562396-65-9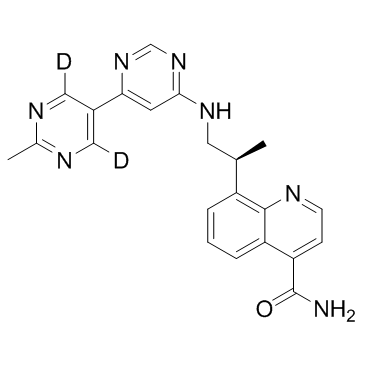 | | |
| --- | --- |
| Cat. No. : | CS-0034473 |
| M. Wt. : | 401.46 |
| Size | Stock | Price | Quantity | Add to Cart | Quotation Online |
| --- | --- | --- | --- | --- | --- |
Products are for research use only. Not for human use. We do not sell to patients.
Your information is safe with us. * Required Fields
Data Sheet

Introduction

SDS

COA & Spectra
| | |
| --- | --- |
| Name: | VX-984; M9831 |
| Cat. No. : | CS-0034473 |
| CAS No. : | 1562396-65-9 |
| Formula: | C22H19D2N7O |
| M. Wt. : | 401.46 |
| Solubility: | DMSO |
Activity:
VX-984 is a selective DNA-dependent protein kinase (DNA-PK) inhibitor with IC50 of 88±64 nM for A549 lung cancer cells. IC50 & Target: IC50: 88±64 nM (DNA-PK, A549 lung cancer cells)[1]. In Vitro: VX-984 enhances the radiosensitivity of glioblastoma (GBM) cells grow in vitro. VX-984 effects on radiation-induced DNA-PKcs phosphorylation in U251 cells, a long established GBM cell line, and NSC11, a primary GBM stem-like cell line (GSC). When VX-984 is delivered 1h before irradiation there is a concentration dependent decrease in radiation induced DNA-PKcs phosphorylation in each glioma line [2]. In Vivo: Treatment of mice with VX-984 inhibites radiation-induced DNA-PKcs phosphorylation in orthotopic brain tumor xenografts, indicating that this compound crosses the blood-brain tumor barrier at sufficient concentrations. For mice bearing U251 or NSC11 brain tumors VX-984 treatment alone has no significant effect on overall survival; radiation alone increases survival. These results indicate that VX-984 enhances the radiosensitivity of brain tumor xenografts and suggest that it may be of benefit in the therapeutic management of GBM [2].
Protocol:
Cell Assay:
[2]
U251
cells growing in monolayer are disaggregated into a single cell suspension and seeded onto tissue culture plates. NSC11 CD133+ neurospheres are disaggregated into single cells and seeded onto tissue culture plates coated with poly-L-lysine (Invitrogen) as previously described, which allows for adherent colony formation. To evaluate radiosensitivity, cells are plated at clonal density in six-well plates and irradiated the next day. 10 to 18d after irradiation, plates are stained with 0.5% crystal violet, the number of colonies determined, and the surviving fractions are calculated. Radiation survival curves are generated after normalizing for the cytotoxicity induced by
VX-984
(100 nM,250 nM), respectively
[2]
.
Animal Administration:
VX-984 is dissolved in freshly made 5% methylcellulose
[2]
.
[2]
U251 (2.5×10
5
) cells or CD133+ NSC11 cells (1.0×10
5
),transduces to express luciferase and GFP with the lentivirus LVpFUGQ-UbC-ffLuc2-eGFP2 are intracranially implanted into the right striatum of 6-8-week-old athymic female
nude mice
.
VX-984 (100 mg/kg)
is delivered by
oral gavage
at 1 or 4 h prior to irradiation; 1 h after irradiation tumors are harvested and subjected to immunoblot analysis
[2]
.
References:
Timme CR, et al. The DNA-PK inhibitor VX-984 enhances the radiosensitivity of glioblastoma cells grown in vitro and as orthotopic xenografts. Rath BH, O'Neill JW, Camphausen K, Tofilon PJ. Mol Cancer Ther. 2018 Jun; 17(6):1207-1216.
Harnor SJ, et al. Targeting DNA-Dependent Protein Kinase for Cancer Therapy. ChemMedChem. 2017 Jun 21; 12(12):895-900.
We apologize for the inconvenience. The Certificate of Analysis you requested is not currently available on-line:
1. The Lot Number you requested may have been entered incorrectly. How to get a Lot Number
2. The COA of the Lot you requested has not been added to our database.
Tags:VX-984 supplier,VX-984 purchase,VX-984 manufacturer,VX-984 sigma,VX-984 distributor,cost,VX-984 buy,VX-984 for sale