Adrenomedullin (AM) (1-52), human
CAS No. :

148498-78-6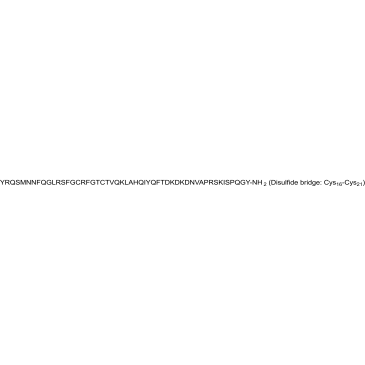 | | |
| --- | --- |
| Cat. No. : | CS-0043650 |
| M. Wt. : | 6028.82 |
Size
Stock
Price
Quantity
Add to Cart
Quotation Online

500ug

Backordered

$

320.0

320.0

Get quote

1mg

Backordered

$

520.0

520.0

Get quote
Products are for research use only. Not for human use. We do not sell to patients.
Your information is safe with us. * Required Fields
Data Sheet

Introduction

SDS

COA & Spectra
| | |
| --- | --- |
| Name: | Adrenomedullin (AM) (1-52), human; Human adrenomedullin-(1-52)-NH2 |
| Cat. No. : | CS-0043650 |
| CAS No. : | 148498-78-6 |
| Formula: | C264H406N80O77S3 |
| M. Wt. : | 6028.82 |
| Solubility: | H2O |
Activity:
Adrenomedullin (AM) (1-52), human is a 52-amino acid peptide, which affects cell proliferation and angiogenesis in cancer. In Vitro: To explore the effect of Adrenomedullin (AM) (1-52), human on astroglioma cells, CRT-MG cells are incubated in the absence or presence of Adrenomedullin (AM) (1-52), human (ADM1-52) for 48 h in a medium containing 1% FBS, and wound-healing assay is performed. The number of cells migrating to the wound region significantly increases in the ADM1-52-treated cells, in a dose-dependent manner, compared to the untreated cells[1].
Protocol:
Cell Assay:
[1]
CRT-MG cells
are scraped off the bottom of a culture plate using a pipette tip to create a cell-free area. The cell culture is washed with PBS to remove cell debris and then incubated with oncostatin M (OSM),
Adrenomedullin (AM) (1-52), human (ADM1-52; 0.1 μM and 0.5 μM)
for 48 h in 1% FBS DMEM. The wound area is photographed after scratching for control. The number of cells migrating into the initial wound area is counted at 48 h after scratching
[1]
.
References:
Lim SY, et al. Transcriptional regulation of adrenomedullin by oncostatin M in human astroglioma cells: implications for tumor invasion and migration. Sci Rep. 2014 Sep 23;4:6444.
We apologize for the inconvenience. The Certificate of Analysis you requested is not currently available on-line:
1. The Lot Number you requested may have been entered incorrectly. How to get a Lot Number
2. The COA of the Lot you requested has not been added to our database.
Tags:Adrenomedullin (AM) (1-52), human supplier,Adrenomedullin (AM) (1-52), human purchase,Adrenomedullin (AM) (1-52), human manufacturer,Adrenomedullin (AM) (1-52), human sigma,Adrenomedullin (AM) (1-52), human distributor,cost,Adrenomedullin (AM) (1-52), human buy,Adrenomedullin (AM) (1-52), human for sale