CGP52432
CAS No. :

139667-74-6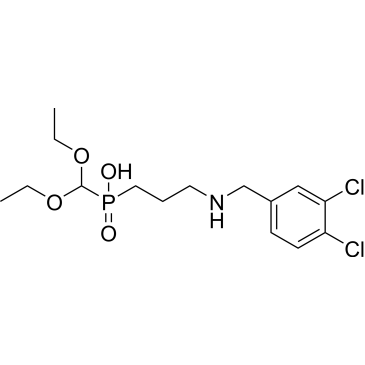 | | |
| --- | --- |
| Cat. No. : | CS-0028031 |
| M. Wt. : | 384.24 |
Size
Stock
Price
Quantity
Add to Cart
Quotation Online

5mg

In-stock

$

90.0

90.0

10mg

In-stock

$

160.0

160.0

25mg

In-stock

$

360.0

360.0

50mg

In-stock

$

640.0

640.0

100mg

In-stock

$

1100.0

1100.0
Products are for research use only. Not for human use. We do not sell to patients.
Your information is safe with us. * Required Fields
Data Sheet

Introduction

SDS

COA & Spectra
| | |
| --- | --- |
| Name: | CGP52432; |
| Cat. No. : | CS-0028031 |
| CAS No. : | 139667-74-6 |
| Formula: | C15H24Cl2NO4P |
| M. Wt. : | 384.24 |
| Solubility: | DMSO: 5 mg/mL (Need ultrasonic and warming) |
Download Data Sheet
Activity:
CGP52432 is a GABAB receptor antagonist, with an IC50 of 85 nM. IC50 & Target: IC50: 85 nM (GABAB receptor)[1] In Vitro: CGP52432 is a GABAB receptor antagonist, with an IC50 of 85 nM, 35- and 100-fold lower than at the receptors regulating somatostatin and glutamate overflow, respectively[1]. In Vivo: CGP52432 (10, 30 mg/kg) shows no effect on the total arm entries and total head dips of mice on the elevated-plus maze[2]. CGP52432 (100 nmol/kg, i.v., or 1 nmol/kg, i.c.v.) abolishes the suppressive effects of GABA ( 50 μmol/kg, i.v.) on enhanced renal sympathetic nerve activity (RSNA) during ischaemia, causeing elimination of the renoprotective effects of GABA in rats[3].
Protocol:
Animal Administration:
CGP52432 is formulated in PBS
[2]
.
[2]
Mice
[2]
Two separate cohorts of male pups are used for the study. One cohort is treated with either R(+)baclofen HCl (2 mg/kg) or with vehicle (PBS). The second cohort is treated with the GABA
B
receptor antagonist
CGP52342 (10, 30 mg/kg)
or vehicle (
PBS
). Drugs are freshly prepared for injection each day, by dissolution in PBS with vortexing and brief sonication. Doses of R(+)baclofen and CGP52432 are chosen to be well tolerated in adult mice. All drug treatments are given via
subcutaneous injection
, once daily from P14-28 in a volume of 0.05 mL
[2]
.
References:
Lanza M, et al. CGP 52432: a novel potent and selective GABAB autoreceptor antagonist in rat cerebral cortex. Eur J Pharmacol. 1993 Jun 24;237(2-3):191-5.
Sweeney FF, et al. Activation but not blockade of GABAB receptors during early-life alters anxiety in adulthood in BALB/c mice. Neuropharmacology. 2014 Jun;81:303-10.
Kobuchi S, et al. Mechanisms underlying the renoprotective effect of GABA against ischaemia/reperfusion-induced renal injury in rats. Clin Exp Pharmacol Physiol. 2015 Mar;42(3):278-86.
We apologize for the inconvenience. The Certificate of Analysis you requested is not currently available on-line:
1. The Lot Number you requested may have been entered incorrectly. How to get a Lot Number
2. The COA of the Lot you requested has not been added to our database.
Tags:CGP52432 supplier,CGP52432 purchase,CGP52432 manufacturer,CGP52432 sigma,CGP52432 distributor,cost,CGP52432 buy,CGP52432 for sale