PF-05180999
CAS No. :

1394033-54-5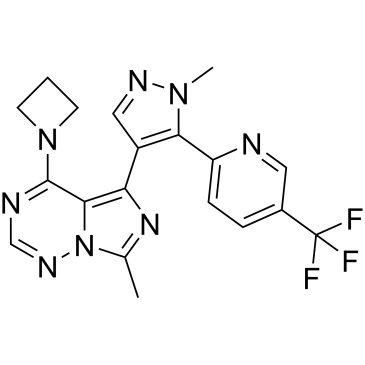 | | |
| --- | --- |
| Cat. No. : | CS-0039866 |
| M. Wt. : | 414.39 |
Size
Stock
Price
Quantity
Add to Cart
Quotation Online

5mg

In-stock

$

80.0

80.0

10mg

In-stock

$

140.0

140.0

25mg

In-stock

$

290.0

290.0

50mg

In-stock

$

490.0

490.0

100mg

In-stock

$

880.0

880.0
Products are for research use only. Not for human use. We do not sell to patients.
Your information is safe with us. * Required Fields
Data Sheet

Introduction

SDS

COA & Spectra
| | |
| --- | --- |
| Name: | PF-05180999; |
| Cat. No. : | CS-0039866 |
| CAS No. : | 1394033-54-5 |
| Formula: | C19H17F3N8 |
| M. Wt. : | 414.39 |
| Solubility: | DMSO: 50 mg/mL (Need ultrasonic) |
Download Data Sheet
Activity:
PF-05180999 is a phosphodiesterase 2A (PDE2A) inhibitor, with an IC50 of 1.6 nM. IC50 & Target: IC50: 1.6 nM (PDE2A)[1] In Vitro: PF-05180999 is a phosphodiesterase 2A (PDE2A) inhibitor, with an IC50 of 1.6 nM. PF-05180999 binds to the rat, dog and monkey PDE2A, with Kis of 4.2, 8.4, and 5.5 nM and IC50s of 2.6, 5.2, and 3.4 nM, respectively. PF-05180999 shows weak activity against PDE, with IC50s of 2.03 μM (PDE10A1), 26.969 μM (PDE7B), 50.09 μM (PDE11A4), and >56.25 μM (PDE1B1, PDE3A1, PDE4D3, PDE5A1, PDE6 (bovine), PDE8B, PDE9A1), respectively. PF-05180999 is also a weak inducer of CYP3A4, and with no direct inhibition of human recombinant cytochrome P450 (CYP) enzymes (1A2, 2B6, 2C8, 2C9, 2C19, 2D6, and 3A) and no induction of CYP1A2[1]. In Vivo: PF-05180999 (Compound 30; 0.032-0.32 mg/kg mg/kg, s.c.) dramatically reduces the working memory errors produced by ketamine in a working memory radial arm maze (RAM) model in rats. PF-05180999 causes acute and exposure-dependent elevation in the accumulation of cGMP bulk levels in the cortex, striatum, and hippocampus, but with no changes in cAMP and the associated downstream phospho-cAMP response element-binding protein (p-CREB) in mice[1].
Protocol:
Animal Administration:
[1]
Rats
[1]
Male Sprague-Dawley rats
(weighing 250-320 g) under urethane anesthesia at 1.5 g/kg intraperitoneal (ip) are placed in a stereotaxic frame, where craniotomies are performed above the region of the medial prefrontal cortex (mPFC) and ipsilateral (CA)1/subiculum. Body temperature of the rat is maintained at 37°C with an electrical heating pad. The femoral vein is cannulated for administration of test drugs (
PF-05180999
, etc.). After the conclusion of the experiments animals are euthanized with an iv bolus of urethane
[1]
.
References:
Helal CJ, et al. Identification of a Potent, Highly Selective, and Brain Penetrant Phosphodiesterase 2A Inhibitor Clinical Candidate. J Med Chem. 2018 Feb 8;61(3):1001-1018.
We apologize for the inconvenience. The Certificate of Analysis you requested is not currently available on-line:
1. The Lot Number you requested may have been entered incorrectly. How to get a Lot Number
2. The COA of the Lot you requested has not been added to our database.
Tags:PF-05180999 supplier,PF-05180999 purchase,PF-05180999 manufacturer,PF-05180999 sigma,PF-05180999 distributor,cost,PF-05180999 buy,PF-05180999 for sale