BETP
CAS No. :

1371569-69-5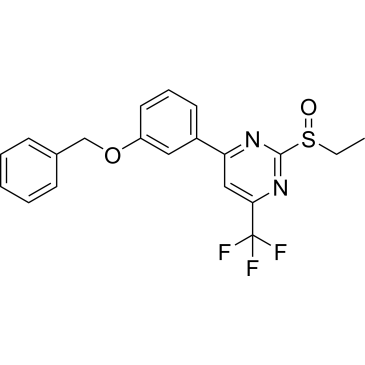 | | |
| --- | --- |
| Cat. No. : | CS-0028074 |
| M. Wt. : | 406.42 |
Size
Stock
Price
Quantity
Add to Cart
Quotation Online

5mg

In-stock

$

100.0

100.0

10mg

In-stock

$

170.0

170.0

25mg

In-stock

$

340.0

340.0

50mg

In-stock

$

610.0

610.0

100mg

In-stock

$

990.0

990.0
Products are for research use only. Not for human use. We do not sell to patients.
Your information is safe with us. * Required Fields
Data Sheet

Introduction

SDS

COA & Spectra
| | |
| --- | --- |
| Name: | BETP; |
| Cat. No. : | CS-0028074 |
| CAS No. : | 1371569-69-5 |
| Formula: | C20H17F3N2O2S |
| M. Wt. : | 406.42 |
| Solubility: | DMSO; Methanol: ≥83.3 mg/mL |
Download Data Sheet
Activity:
BETP is an agonist of glucagon-like peptide-1 (GLP-1) receptor, with EC50s of 0.66 and 0.755 μM for human and rat GLP-1 receptor, respectively. IC50 & Target: EC50: 0.66 μM (Human GLP-1 receptor), 0.755 μM (Rat GLP-1 receptor)[1] In Vitro: BETP is a GLP-1 receptor agonist, with EC50s of 0.66 and 0.755 μM for human and rat GLP-1 receptor, respectively. BETP (Compound B) is inactive in cells expressing the GLP-2, GIP, PTH, or glucagon receptors. BETP (1-10 μM) enhances insulin secretion in normal and diabetic human islets. In addition, BETP in combination with GLP-1 shows additive effects on increasing GLP-1 receptor signaling[1]. BETP increases the potency of oxyntomodulin by 10-fold (EC50 of 80 pM). GLP-1 does not change the potencies and efficacies of both oxyntomodulin and glucagon at the glucagon receptor. BETP (0-30 μM) increases the binding affinity of oxyntomodulin for the GLP-1 receptor[2]. In Vivo: BETP has insulinotropic effect in SD rats. BETP (10 mg/kg, jugular vein cannula) exhibits insulin secretagogue activity in the intravenous glucose tolerance test (IVGTT) model. BETP (10 mg/kg, i.v.)-treated rats need 20% higher glucose infusion rates and demonstrates higher plasma insulin levels in SD rat hyperglycemic clamp model[1]. BETP (5 mg/kg) enhances oxyntomodulin-stimulated insulin secretion[2].
Protocol:
Animal Administration:
BETP is formulated in dosing solution containing 10% ethanol/solutol, 20% polyethylene glycol-400, and 70% PBS (pH 7.4)
[1]
.
[1]
Rats
[1]
The IVGTT studies are performed.
Male SD rats
are group-housed three per cage in polycarbonate cages with filter tops. Rats are maintained on a 12:12 h light-dark cycle (lights on at 6:00 a.m.) at 21°C and receive diet and deionized water ad libitum. Rats are fasted overnight and anesthetized with 60 mg/kg pentobarbital for the duration of the experiment. For glucose and compounds (
BETP
, etc.) administration, a catheter with a diameter of 0.84 mm is inserted into the jugular vein. For rapid blood collection, a larger catheter with 1.02-mm diameter is inserted into the carotid artery. Blood is collected for glucose and insulin levels at time 0, 2, 4, 6, 10, and 20 min after
intravenous administration of the BETP
which is immediately followed by an intravenous glucose bolus of 0.5 g/kg. Plasma levels of glucose and insulin are determined
[1]
.
References:
Sloop KW, et al. Novel small molecule glucagon-like peptide-1 receptor agonist stimulates insulin secretion in rodents and from human islets. Diabetes. 2010 Dec;59(12):3099-107.
Willard FS, et al. Small molecule allosteric modulation of the glucagon-like Peptide-1 receptor enhances the insulinotropic effect of oxyntomodulin. Mol Pharmacol. 2012 Dec;82(6):1066-73.
We apologize for the inconvenience. The Certificate of Analysis you requested is not currently available on-line:
1. The Lot Number you requested may have been entered incorrectly. How to get a Lot Number
2. The COA of the Lot you requested has not been added to our database.
Tags:BETP supplier,BETP purchase,BETP manufacturer,BETP sigma,BETP distributor,cost,BETP buy,BETP for sale