Leucylarginylproline
CAS No. :

133943-59-6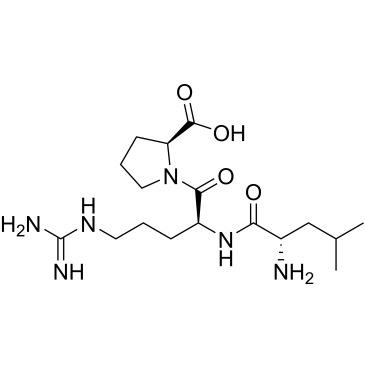 | | |
| --- | --- |
| Cat. No. : | CS-6486 |
| M. Wt. : | 384.47 |
Size
Stock
Price
Quantity
Add to Cart
Quotation Online

1mg

Backordered

USD

108.0

108.0

Get quote

5mg

Backordered

USD

432.0

432.0

Get quote
Products are for research use only. Not for human use. We do not sell to patients.
Your information is safe with us. * Required Fields
Data Sheet

Introduction

SDS

COA & Spectra
| | |
| --- | --- |
| Name: | Leucylarginylproline; Leu-Arg-Pro; LRP |
| Cat. No. : | CS-6486 |
| CAS No. : | 133943-59-6 |
| Formula: | C17H32N6O4 |
| M. Wt. : | 384.47 |
| Solubility: | H2O |
Activity:
Leucylarginylproline is an angiotensin-converting enzyme (ACE) inhibitor with an IC50 of 0.27μM. IC50 & Target: IC50: 0.27μM (ACE)[1] In Vitro: Intravenous injection of Leucylarginylproline (30mg/kg) causes a decrease in the blood pressure. The maximum mean blood pressure reduction (about 15 mmHg) occurrs about 2 min after the injection[1]. Leucylarginylproline peptide reduces the blood pressure by about 15 mmHg at the fourth hour and shows a maximal reduction effect of about 35 mmHg at the eighth hour after oral administration[2].
Protocol:
Kinase Assay:
[1]
Hip-His-Leu (5mM) and an ACE inhibitor (Leucylarginylproline) are dissolved in a 100 mM sodium borate buffer (pH 8.3) containing 300 mM NaCl, and incubated for 30 min with 8 milliunits of ACE at 37°C. The ACE inhibitor concentration required to inhibit 50% of the ACE activity under the above conditions is defined as IC
50
[1]
.
Animal Administration:
[2]
Rats: Leucylarginylproline is dissolved in 1.0 mM normal saline. After being warmed up, rats are orally administered (0.18 mmol/kg bw) with peptides or normal saline (control). Tail systolic blood pressures are measured at 2-h intervals (0, 2, 4, 6, 8, 10, and 12 h) after the administration
[2]
.
References:
Miyoshi S, et al. Structures and activity of angiotensin-converting enzyme inhibitors in an alpha-zein hydrolysate. Agric Biol Chem. 1991 May;55(5):1313-8.
Chen TL, et al. Microencapsulation and modification of synthetic peptides of food proteins reduces the blood pressure of spontaneously hypertensive rats. J Agric Food Chem. 2003 Mar 12;51(6):1671-5.
We apologize for the inconvenience. The Certificate of Analysis you requested is not currently available on-line:
1. The Lot Number you requested may have been entered incorrectly. How to get a Lot Number
2. The COA of the Lot you requested has not been added to our database.
Tags:Leucylarginylproline supplier,Leucylarginylproline purchase,Leucylarginylproline manufacturer,Leucylarginylproline sigma,Leucylarginylproline distributor,cost,Leucylarginylproline buy,Leucylarginylproline for sale