O-304
CAS No. :

1261289-04-6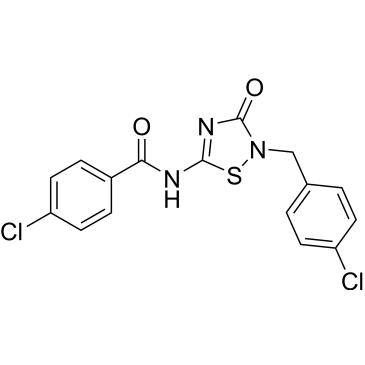 | | |
| --- | --- |
| Cat. No. : | CS-0044210 |
| M. Wt. : | 380.25 |
Size
Stock
Price
Quantity
Add to Cart
Quotation Online

5mg

In-stock

$

180.0

180.0

10mg

In-stock

$

280.0

280.0

25mg

In-stock

$

550.0

550.0

50mg

In-stock

$

850.0

850.0

100mg

In-stock

$

1300.0

1300.0
Products are for research use only. Not for human use. We do not sell to patients.
Your information is safe with us. * Required Fields
Data Sheet

Introduction

SDS

COA & Spectra
| | |
| --- | --- |
| Name: | O-304; |
| Cat. No. : | CS-0044210 |
| CAS No. : | 1261289-04-6 |
| Formula: | C16H11Cl2N3O2S |
| M. Wt. : | 380.25 |
| Solubility: | DMSO: 30 mg/mL |
Download Data Sheet
Activity:
O-304 is a small molecule AMPK activator. IC50 & Target: AMPK[1] In Vivo: O-304 efficiently increases glucose uptake and reduces insulin resistance in skeletal muscle a primary cause of obesity-induced T2D. O-304 also reverses β-cell stress/dysfunction and induce β-cell rest. O-304 also increases energy expenditure and protects against diet induced obesity, fatty liver, hyperlipidemia and diabetes. CVD remains a major cause of death of T2 diabetics, and O-304 increases peripheral blood flow and left ventricular function, and acts as an "Exercise mimetic". Thus, as an AMPK activator O-304 uniquely mitigates many of the metabolic and cardiovascular complications associated with the obesity epidemic. O-304 has the unique potential to increase glucose uptake and reduce insulin resistance in newly diagnosed T2 diabetics and as such prevent the associated β-cell hyperactivity/failure and progression of the disease[1].
Protocol:
References:
Periodic Reporting for period 1-AMPK-DIAB (A small molecule AMP activated protein kinase (AMPK) activator, denoted O304, as a novelinnovative drug for the treatment of type 2 diabetes).
Your search returns no results.
Tags:O-304 supplier,O-304 purchase,O-304 manufacturer,O-304 sigma,O-304 distributor,cost,O-304 buy,O-304 for sale