Rapastinel
CAS No. :

117928-94-6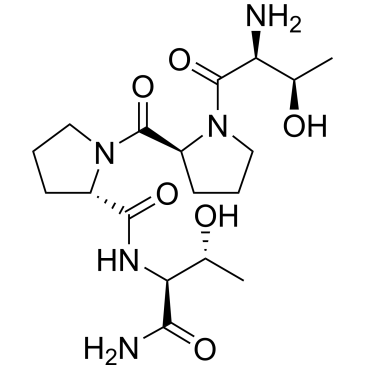 | | |
| --- | --- |
| Cat. No. : | CS-5507 |
| M. Wt. : | 413.47 |
Size
Stock
Price
Quantity
Add to Cart
Quotation Online

1mg

Backordered

USD

70.0

70.0

Get quote

5mg

Backordered

USD

210.0

210.0

Get quote

10mg

Backordered

USD

350.0

350.0

Get quote

25mg

Backordered

USD

650.0

650.0

Get quote
Products are for research use only. Not for human use. We do not sell to patients.
Your information is safe with us. * Required Fields
Data Sheet

Introduction

SDS

COA & Spectra
| | |
| --- | --- |
| Name: | Rapastinel; GLYX-13; Thr-Pro-Pro-Thr-NH2 |
| Cat. No. : | CS-5507 |
| CAS No. : | 117928-94-6 |
| Formula: | C18H31N5O6 |
| M. Wt. : | 413.47 |
| Solubility: | DMSO: ≥ 32 mg/mL |
Download Data Sheet
Activity:
Rapastinel (GLYX-13) is an N-methyl-D-aspartate receptor (NMDAR) modulator that has characteristics of a glycine site partial agonist. Target: NMDA Rapastinel is a robust cognitive enhancer and facilitates hippocampal long-term potentiation (LTP) of synaptic transmission in slices.
Protocol:
Animal administration [1] Adult male (2-3-month-old) Sprague-Dawley (SD) rats were housed in lucite cages with aspen wood chip bedding, maintained on a 12:12 light:dark cycle (lights on at 5 AM). Rapastinel was administered in 1 ml/kg 0.9% sterile saline vehicle. The dose of 3 mg/kg IV for rapastinel was chosen because it was the optimal antidepressant dose in Porsolt testing based on a previous dose-response (1-56 mg/kg IV) study. TheNMDA receptor antagonist (±)-3-(2-carboxypiperazin-4-yl)propyl-1-phosphonic acid (CPP) was also administered in 1 ml/kg 0.9% sterile saline vehicle. The dose of CPP (10 mg/kg IP) was chosen based on a previous report that this dose could block the antidepressant-like effects of a putativeNMDAR modulator in the Porsolt test without exhibiting behavioral effects on its own. Animals were tested 1 week post-dosing with Rapastinel (3 mg/kg IV) or 0.9% sterile saline (1 ml/kg) vehicle, or received a dose of CPP (10 mg/kg IP) 1 h before the 1 week test point . Alternatively, animals received pre-treatment with CPP (10 mg/kg IP) 1 h before rapastinel administration and were tested 1 h after Rapastinel administration. The broad spectrum NMDAR glutamate site antagonistCPP was chosen for these studies because it does not produce an antidepressant response in the Porsolt test unlike the NMDAR channel blockers likeketamine, MK-801 or the NR2B-specific antagonist Ro25-698.
References:
Burgdorf J, et al. The long-lasting antidepressant effects of rapastinel (GLYX-13) are associated with a metaplasticity process in the medial prefrontal cortex and hippocampus. Neuroscience. 2015 Nov 12;308:202-11.
We apologize for the inconvenience. The Certificate of Analysis you requested is not currently available on-line:
1. The Lot Number you requested may have been entered incorrectly. How to get a Lot Number
2. The COA of the Lot you requested has not been added to our database.
Tags:Rapastinel supplier,Rapastinel purchase,Rapastinel manufacturer,Rapastinel sigma,Rapastinel distributor,cost,Rapastinel buy,Rapastinel for sale