Fmoc-Thr[GalNAc(Ac)3-α-D]-OH
CAS No. :

116783-35-8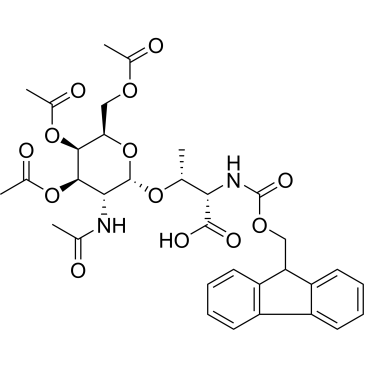 | | |
| --- | --- |
| Cat. No. : | CS-6902 |
| M. Wt. : | 670.66 |
Size
Stock
Price
Quantity
Add to Cart
Quotation Online

25mg

In-stock

$

336.0

336.0

50mg

In-stock

$

576.0

576.0

100mg

In-stock

$

816.0

816.0
Products are for research use only. Not for human use. We do not sell to patients.
Your information is safe with us. * Required Fields
Data Sheet

Introduction

SDS

COA & Spectra
| | |
| --- | --- |
| Name: | Fmoc-Thr[GalNAc(Ac)3-α-D]-OH; Fmoc-Thr(Ac₃AcNH-α-Gal)-OH |
| Cat. No. : | CS-6902 |
| CAS No. : | 116783-35-8 |
| Formula: | C33H38N2O13 |
| M. Wt. : | 670.66 |
| Solubility: | H2O |
Download Data Sheet
Activity:
Fmoc-Thr[GalNAc(Ac)3-α-D]-OH i a building block in the development of cancer vaccine. In Vitro: The O-glycosidic linkage and the O-acetyl protection in this building block is stable to both piperidine and TFA, making it completely compatible with standard protocols in Fmoc solid phase peptide synthesis. The Tn antigen is a tumor-associated carbohydrate antigen that is not normally expressed in peripheral tissues or blood cells. Expression of this antigen, which is found in a majority of human carcinomas of all types, arises from a blockage in the normal O-glycosylation pathway in which glycans are extended from the common precursor GalNAcα1-O-Ser/Thr (Tn +antigen). This precursor is generated in the Golgi apparatus on newly synthesized glycoproteins by a family of polypeptide α- N-acetylgalactosaminyltransferases (ppGalNAcTs) and then extended to the common core 1 O-glycan Galβ1-3GalNAcα1-OSer/Thr (T antigen) by a single enzyme termed the T-synthase (core 1 β3-galactosyltransferase or C1GalT). Formation of the active form of the T-synthase requires a unique molecular chaperone termed Cosmc, encoded by Cosmc on the X-chromosome[1].
Protocol:
References:
Ju T, et al. The Cosmc connection to the Tn antigen in cancer. Cancer Biomark. 2014 Jan 1;14(1):63-81.
Your search returns no results.
Tags:Fmoc-Thr[GalNAc(Ac)3-α-D]-OH supplier,Fmoc-Thr[GalNAc(Ac)3-α-D]-OH purchase,Fmoc-Thr[GalNAc(Ac)3-α-D]-OH manufacturer,Fmoc-Thr[GalNAc(Ac)3-α-D]-OH sigma,Fmoc-Thr[GalNAc(Ac)3-α-D]-OH distributor,cost,Fmoc-Thr[GalNAc(Ac)3-α-D]-OH buy,Fmoc-Thr[GalNAc(Ac)3-α-D]-OH for sale