SNT-207707
CAS No. :

1064662-40-3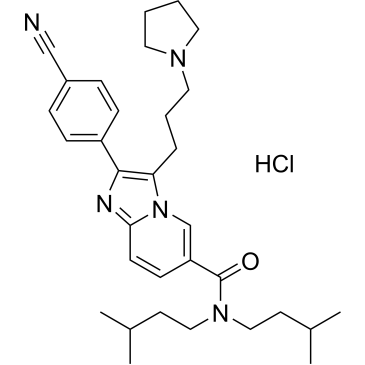 | | |
| --- | --- |
| Cat. No. : | CS-0003000 |
| M. Wt. : | 550.18 |
| Size | Stock | Price | Quantity | Add to Cart | Quotation Online |
| --- | --- | --- | --- | --- | --- |
Products are for research use only. Not for human use. We do not sell to patients.
Your information is safe with us. * Required Fields
Data Sheet

Introduction

SDS

COA & Spectra
| | |
| --- | --- |
| Name: | SNT-207707; Imidazo[1,2-a]pyridine-6-carboxamide, 2-(4-cyanophenyl)-N,N-bis(3-methylbutyl)-3-[3-(1-pyrrolidinyl)propyl]-, hydrochloride (1:1) |
| Cat. No. : | CS-0003000 |
| CAS No. : | 1064662-40-3 |
| Formula: | C32H44ClN5O |
| M. Wt. : | 550.18 |
| Solubility: | DMSO |
Activity:
SNT-207707 is a selective, potent and orally active melanocortin MC-4 receptor antagonist with an IC50 of 8 nM (binding) and 5 nM (function) on the MC-4 receptor. IC50 & Target: IC50: 8 nM (binding MC-4), 5 nM (function MC-4)[1] In Vitro: SNT-207707 binds to the MC-4 receptor with an affinity of 8 nM and shows a more than 200-fold selectivity vs. MC-3 and MC-5. SNT207858 is a 22 nM MC-4 antagonist with a 170-fold selectivity vs. MC-3 and a 40-fold selectivity versus MC-5[1]. In Vivo: Single subcutaneous injection of 20 mg/kg of SNT-207707 distinctly increases food intake of the mice. Once daily oral administration of both compounds SNT207858 and SNT-207707 starting the day after tumor implantation significantly reduces the tumor induced weight loss[1].
Protocol:
Animal Administration:
SNT-207707 is freshly dissolved and administered by oral gavage in a volume of 10 mL/kg of 10% Hydroxypropyl-β-cyclodextrin in 100 mM saline solution
[1]
.
[1]
Mice
[1]
Twelve weeks old male CD-1 mice are dosed by gavage with either SNT-207707 or SNT207858 at 60 mg/kg (n=9 per compound). At 1, 3, and 6 hrs post-dose, 3 mice from each compound group are euthanized with CO2. Blood is collected by cardiac puncture, plasma is isolated immediately and then kept on dry ice until analysis[1].
References:
Weyermann P, et al. Orally available selective melanocortin-4 receptor antagonists stimulate food intake and reduce cancer-induced cachexia in mice. PLoS One. 2009;4(3):e4774.
We apologize for the inconvenience. The Certificate of Analysis you requested is not currently available on-line:
1. The Lot Number you requested may have been entered incorrectly. How to get a Lot Number
2. The COA of the Lot you requested has not been added to our database.
Tags:SNT-207707 supplier,SNT-207707 purchase,SNT-207707 manufacturer,SNT-207707 sigma,SNT-207707 distributor,cost,SNT-207707 buy,SNT-207707 for sale