GNF-5837
CAS No. :

1033769-28-6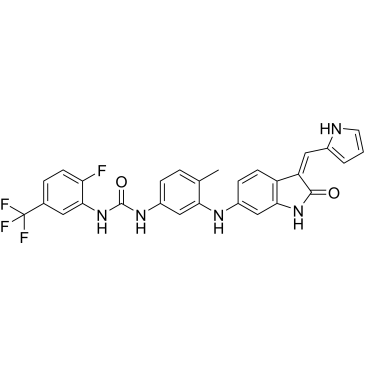 | | |
| --- | --- |
| Cat. No. : | CS-1728 |
| M. Wt. : | 535.49 |
Size
Stock
Price
Quantity
Add to Cart
Quotation Online

5mg

In-stock
USD

84.0

84.0

10mg

In-stock
USD

120.0

120.0

50mg

In-stock
USD

324.0

324.0

100mg

In-stock
USD

540.0

540.0

200mg

In-stock
USD

792.0

792.0
Products are for research use only. Not for human use. We do not sell to patients.
Your information is safe with us. * Required Fields
Data Sheet

Introduction

SDS

COA & Spectra
| | |
| --- | --- |
| Name: | GNF-5837; |
| Cat. No. : | CS-1728 |
| CAS No. : | 1033769-28-6 |
| Formula: | C28H21F4N5O2 |
| M. Wt. : | 535.49 |
| Solubility: | DMSO: ≥ 32 mg/mL |
Download Data Sheet
Activity:
GNF-5837 is a potent pan-Trk inhibitor which display antiproliferative effects in cellular Ba/F3 assays (IC50 values are 7, 9 and 11 nM for cells containing the fusion proteins Tel-TrkC, Tel-TrkB and Tel-TrkA, respectively). IC50 Value: 7/9/11 nM (Tel-TrkC/Tel-TrkB/Tel-TrkA) [1] Target: pan-Trk GNF-5837 is an orally bioavailable oxindole compound that and acts as a potent, reversible and type II DFG-out inhibitor of pan-Trk activity (IC50 = 8 and 12 nM for TrkA and TrkB). Shown to target Trk (tropomyosin receptor kinase) ATP binding cleft and an immediately adjacent hydrophobic pocket. Preferentially arrests the proliferation of Ba/F3 cells fused with Tel-TrkA, Tel-TrkB and Tel-TrkC (IC50 = 11, 9 and 7 nM, respectively) and in Ba/F3 and RIE cells expressing both TrkA and NGF (IC50 = 42 and 17 nM, respectively) over Mo7e-c-Kit and Rat-A10-PDGFR (IC50 = 1 and 0.5 μM) and Ba/F3-Tel-KDR and wt-Ba/F3 cells (IC50 = 3.0 and 5.6 μM). GNF-5837 displays ~100-fold greater selectivity among a panel of 59 closely related kinases and in 33 cellular kinase assays. GNF-5837 weakly antagonize relevant cytochrome P450 isozymes and hERG channel, and exhibit adequate microsomal stability, pharmacokinetic profile and efficacy in mice and rats. GNF-5837 suppresses tumor growth in a mouse RIE-TrkAmNGF xenograft model (50 mg/kg, p.o.) [1].
Protocol:
Cell assay [1] GNF-5837 was tested for their ability to inhibit the proliferation of wt Ba/F3 cells and Ba/F3 cells transformed with constitutively expressed luciferase reporter and BCR-ABL or Tel-KDR or other Tel fusion kinases. Parental Ba/F3 cells were maintained in media containing recombinant mouse IL3 and the kinase transformed Ba/F3 cells were maintained in media without IL-3. 7.5 nL of compounds were spotted to each well of 1536-well assay plates by Liquid handling System Echo 555. 700 cells were then plated into each well of the assay plates in 7 uL culture media per well and compounds were tested at 0.17 nM to 10 uM in 3-fold serial dilutions. The cells were then incubated for 48 hours at 37°C. 3 uL of Bright-Glo was added to each well and the plates were read using ViewLux. Animal administration [1] 3 x 106 of Rie cells expressing TrkA and NGF were implanted with a subcutaneous injection into the right hind flank of a Balb/c nude mouse. After implant, once tumors became palpable, animals were dosed with the vehicle, 25 mg/Kg, 50 mg/Kg, or 100 mg/Kg of GNF-5837 using oral gavages once a day for 10 days. Tumor volumes were measured by a caliper 3 times per week and were calculated using (L x W x H)/2.
References:
Albaugh, P. et al. Discovery of GNF-5837, a Selective TRK Inhibitor with Efficacy in Rodent Cancer Tumor Models. ACS MEDICINAL CHEMISTRY LETTERS, 2012; 3 (2): 140
We apologize for the inconvenience. The Certificate of Analysis you requested is not currently available on-line:
1. The Lot Number you requested may have been entered incorrectly. How to get a Lot Number
2. The COA of the Lot you requested has not been added to our database.
Tags:GNF-5837 supplier,GNF-5837 purchase,GNF-5837 manufacturer,GNF-5837 sigma,GNF-5837 distributor,cost,GNF-5837 buy,GNF-5837 for sale